Introducing a New Report Series on Specified Pool Prepayment Trends
Products
Andrew Davidson & Co., Inc (AD&Co) is pleased to announce the beta release of a new monthly report series titled "Specified Pool Prepayment Trends," which aims at showing market prepayment trends for specified agency pools in support of pay-up analyses by investors, traders, and alike.
The reports in the beta release include 30-year Fannie Mae, Freddie Mac and Ginnie Mae II collateral and provide 1-, 3-, 6- and 12-month prepayment speed differences for specified pools in comparison with the overall prepayment speed of each corresponding, non-specific coupon cohort. The specified pools covered in the beta reports include only the pools defined by loan size buckets.
The following snapshot is a sample report table where the "All" column shows the average prepayment speed for each non-specific coupon cohort. For each specified pool defined by a loan size bucket, the report shows the difference in prepayment speed between the specified pool and the "All" column. Faster speeds than the corresponding coupon cohort are shown as positive numbers. Cells under each specified pool label are also colored using the color legend shown below.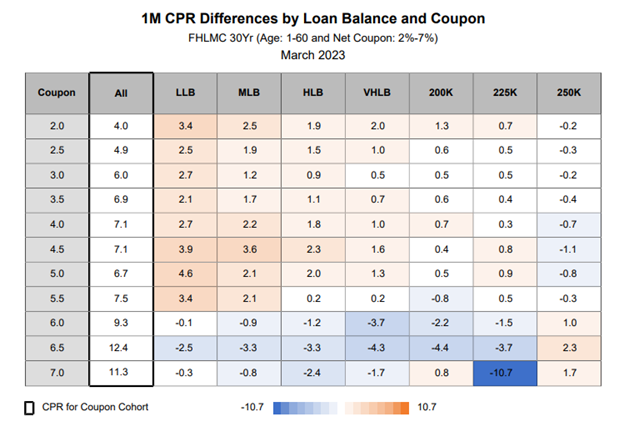 While each report provides a monthly reference point for pay-up analysis, a sequence of monthly reports may also have the potential to observe and track changes in mortgage prepayment speeds under different macroeconomic conditions.
During the beta period, we will continue to enhance and enrich the "Specified Pool Prepayment Trends" reports. We look forward to your comments, suggestions and feedback to make these reports more informative and useful to you.
Please contact us at support@ad-co.com or (212) 274-9075 with any questions or suggestions.